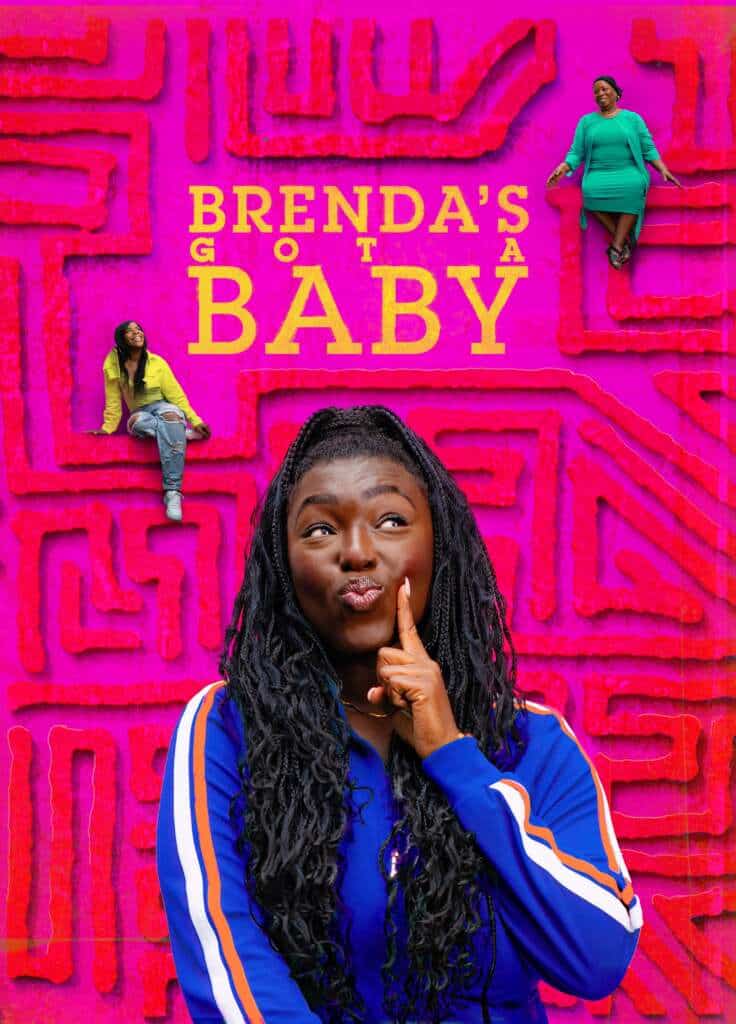 🎭 Brenda's Got A Baby
📍New Diorama Theatre
🎟️ PR invite
⭐⭐⭐⭐
Jessica Hagan's new comedy play heads to New Diorama Theatre for an entertaining and insightful production on Black womanhood, sisterhood, motherhood and…babies!
The story
Following an unforeseen breakup with her long-term boyfriend, Dami (Jordan Duvigneau) and feeling constantly overshadowed by her happily married younger sister, 29-year old Ama (Anita Uwajeh) sets out on a quest to embrace motherhood. Ama has made great achievements including securing her own home and a successful career, but as she approaches her late twenties, she believes the missing piece in her life is a child.
Ama navigates a rollercoaster ride that includes grappling with a shortage of available Black sperm donors, confronting a racially biased healthcare system, and dealing with her own demanding family. Still, Ama charges ahead with determination. Along the way, she finds herself entangled in awkward encounters, even more awkward conversations and defiant decisions. With the clock ticking, Ama's sense of urgency only intensifies.
My thoughts
The show opens with sisters, Ama and Jade (Jahmila Heath), as Ama delivers a scathing commentary on a peer's fifth pregnancy. Together, the two light up the stage with their quick wit and humour, setting the tone for the show. As they listed all the societal pressures and expectations they were told as teenagers, I enjoyed watching their convincing sisterly bond. The show featured pop cultural and TV references, including a notable scene from The Real Housewives of Atlanta. While this had the audience immediately engaged, with some even reciting the scene, I found this to be a smart foreshadowing technique for the events to come.
Brenda's Got A Baby was jam-packed with jokes that had the audience in constantly laughing. Hagan's script is razor-sharp, witty and performed wonderfully by the cast of 5. Whether it was Dami's audacious attitude, Jade's innocence or Skippy's (Edward Kagutuzi) naive but charming nature, I found the characters incredibly fun to watch. They had such natural chemistry and charisma throughout.
Michelle Asante gave a strong performance as Ama's mum, with the exaggerated facial expressions and hilariously outlandish remarks. I couldn't help but wonder how this character was so identical to my own Ghanaian mother (bravo to the team!) The infusion of the Ghanaian dialect, Twi, added to her character's charm. Anita-Joy was utterly brilliant in the role of Ama and displayed great stage presence. The character's overly sarcastic demeanor worked well with Uwajeh's seamless comedic timing. Among the hilarity, I adored the poignant scene between Asante and Uwajeh as they portrayed a beautiful, mother-daughter bond.
The jigsaw set design by TK Hay added a colourful and playful dimension to the story, reflecting Ama's vibrant dynamics of her family, but also the inner thoughts of her fragmented life. As Act 2 peeled back the layers of Ama's vulnerability, we also learn more about her younger sister, Jade's, health. I wished this particular scene wasn't so hysterical between the characters. Though various revelations come to light, Jade's announcement felt hurried. This would have been a significant plot to the story and further discussion into black women and healthcare.
Khalil Madovi provided subtle shifts in sound whenever babies and marriage were mentioned to Ama. This conveyed a strong sense of isolation, a theme that unfolds throughout the play. Anastasia Osei-Kuffour's direction paired incredibly well with Madovi's distorted sound design, both effectively mirroring the disjointed pieces of Ama's life. The relentless (and literal!) countdown, symbolizing a ticking body clock further added to her desperation. It's quite a tough experience to watch as Ama frantically paces around the stage, undergoing questionable actions. Osei-Kuffour skillfully balances between the playful direction in Act 1 to the sombre Act 2, where coercive cracks begin to surface.
I appreciated the show for addressing the societal pressures women face. But also acknowledging the issues within black women's maternal care and health, with the inclusion of statistics that I wasn't even aware of! Jessica Hagan is a talented writer, and cleverly blends satire with sensitivity, ensuring that the humorous moments do not overshadow the serious undertones.
Brenda's Got A Baby is a brilliant production, offering constant laughter, thought-provoking themes, and a cast that delivers a marvellous performance!
Brenda's Got A Baby plays at New Diorama Theatre until 2 December 2023.
Access performances:

Captioned: Wednesday 22 November 2023 – 7:30pm
Relaxed: Thursday 16 November 2023 – 7:30pm
Babes-in-Arms: Thursday 16 & Thursday 30 November – 2pm