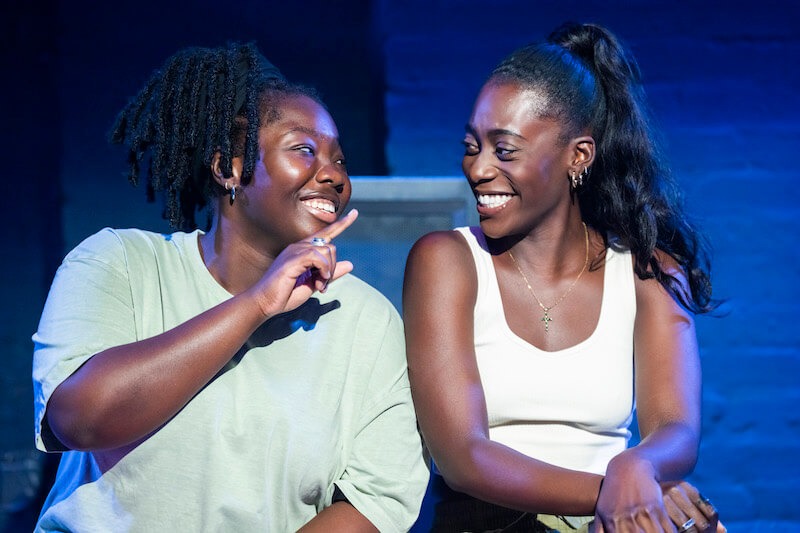 First published on Lost in Theatreland website.
🎭 Flip!
📍 Soho Theatre
🎟️ Gifted
⭐⭐⭐⭐⭐
FLIP! takes the audience on an exhilarating journey into the intricate world of social media, examining the ever-evolving digital world.
We meet Carleen and Crystal (Leah St Luce and Jadesola Odunjo), a content-creating duo and inseparable best friends, who desire to become famous influencers!
Their latest post pushes boundaries, but on FLIP!, a new social media platform, they find a second chance at fame and wealth. But what happens when morals are traded for engagements, likes, and reposts? Written by Racheal Ofori, FLIP! shows us the impact an ever-growing social platform has on ethics, compassion, and friendships.
St Luce and Odunjo are fantastic in their roles, delivering comical and high-energy performances. I adore their natural chemistry and the authenticity of the characters. They are quirky, fun honest…and so in sync, (shoutout to Aline David's movement direction!) St Luce and Odunjo are brilliant comedic actors, but also wonderfully showcase the more emotive and vulnerable moments. I was also impressed with how the two seamlessly embodied multiple roles. As they portray a chorus of online users – some sharing compliments, others outrightly hating – the show delves into the nuances of influencer culture.
Emily Abaoud's fast-paced direction pairs well with Ofori's sharp script. Together, they create an exciting and engaging production that keeps the audience on their toes. I also enjoyed Abaoud's direction mirroring the instantaneous nature of the online world. The absurd scenarios and parodies of real-life social channels made the audience cackle, adding an extra layer of humour to the show.
Ofori has cleverly portrayed the impact of our actions in the pursuit of validation. The characters exclaim, "Collect the cheques!" which prompts the audience to question the cost of chasing fame.
FLIP! is not only entertaining – it's a timely and relevant piece that perfectly captures the essence of our digital age. The script offers thought-provoking commentary in a way that reminds me of the TV show, Black Mirror. Particularly with the incorporation of Artificial Intelligence in the story, Ofori has created a unique exploration into one of society's hot topics.
With a witty script, slick direction, and strong performances, FLIP! is a hilarious and reflective show on the dilemmas of social media.