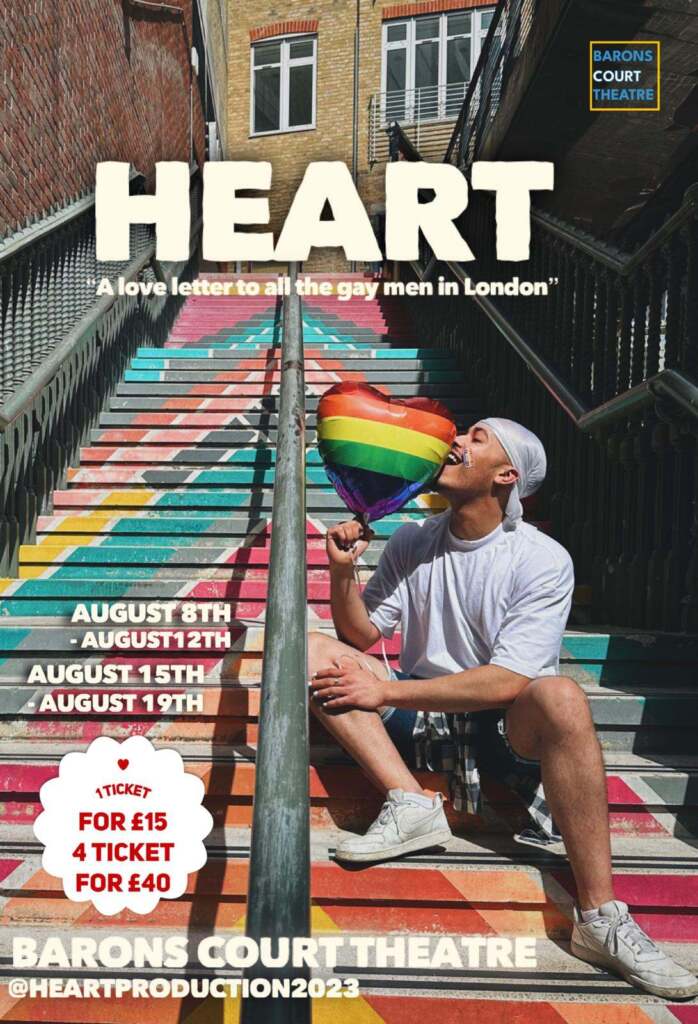 🎭 Heart
📍 Barons Court Theatre
🎟️ PR invite
⭐⭐⭐
Reece Lewis' honest and personal one-man show heads to Barons Court Theatre for an evening of laughter, heartbreak and harrowing insight into the experience of a young queer man.
The story
Described as a love letter to all gay men in London, we meet Tyler – a 24-year-old mixed-race gay man from London. He adores his mum, and his friends and loves a party! But that's not Tyler's story – what lies beneath is far more complex. We learn that Tyler longs for a meaningful, romantic connection – which proves to be difficult to find in an era of online dating apps and casual encounters. The show also focuses on Tyler's journey with an absent, disapproving parent.
My thoughts
We enter the theatre to various electronic dance tracks and nightclub-style lighting; this set the atmosphere of the show which I enjoyed as I admired the set. A Pride poster was centre stage, along with a multicoloured swivel chair and a Pride blanket. The set design did well to establish the theme of the show and reflect the character's personality. Lewis had a fantastic stage presence from the moment they entered the stage. Tyler is instantly likeable, witty, and by the look of those dance moves – the life of the party! Lewis performed as multiple characters in the story effortlessly switching between the different accents and mannerisms.
'Heart' reveals the societal judgements gay people face, be it from family members or people in the queer community. Tyler is tired of being straight people's 'experiment' and battles to find a real connection. His dating experiences are explored in a vivid scene, directed by Koreen Howel. As Tyler moves around the stage on the swivel chair, scrolling through explicit and racist Grindr messages, we can't help but feel sorrow.
The show captures the freedom Tyler finds in queer spaces, the feeling of safety, and a space to be his true self. It was beautiful to hear and warmed my heart. The rhythmic, and slightly poetic script also nicely portrayed Tyler's stream of consciousness.

While the show moved at a fast pace, some transitions felt disjointed and too abrupt. I liked some lighting choices throughout, including the warm blue for softer scenes. But during a moment of intimacy, we had a deep shade of red lighting but this was quickly turned off, despite the ongoing scene.
We lean into more sensitive themes, involving Tyler's father, who is disapproving of his son's sexuality and is abusive. The last scenes focused on their relationship and despite the poignant moments, this felt like a drawn-out conclusion. Tyler's journey with his love interest seemed like the more fitting way to conclude the show. Considering the production is described as a love letter to the gay community in London, I wasn't sure where the final 25 minutes fit into that. Nonetheless, I still appreciated the themes throughout the show. Reece Lewis is a strong performer and writer and I especially loved seeing a gay, mixed-race character (we need more POC queer stories!).
'Heart' is playing at Barons Court Theatre until 19 August 2023. You can buy a ticket online here!