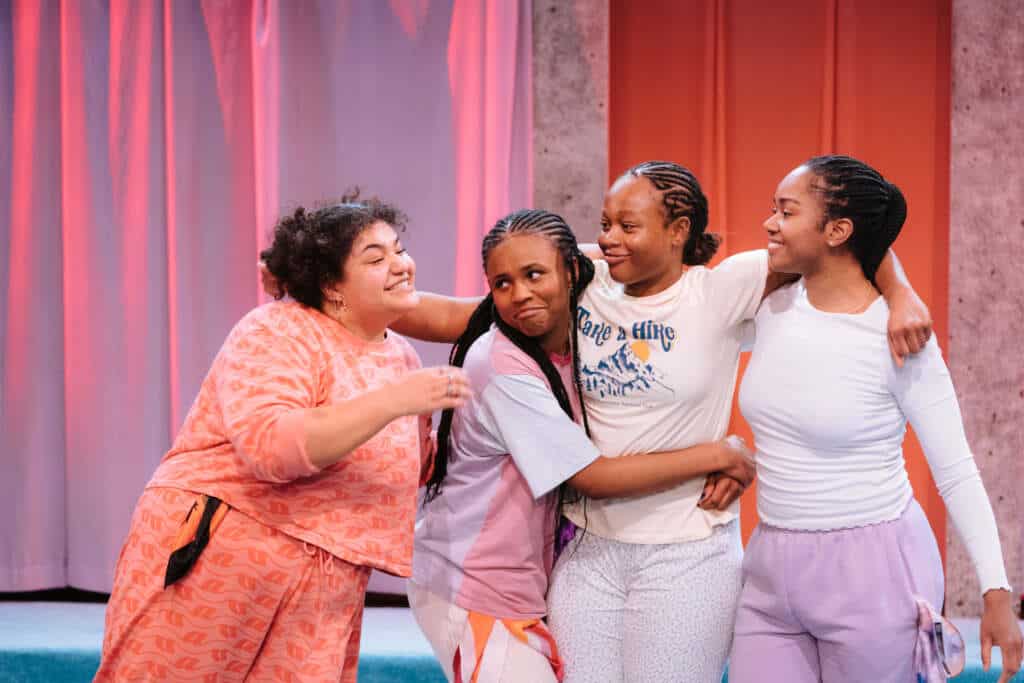 🎭 Sleepova
📍 Bush Theatre
🎫 PR invite
⭐⭐⭐⭐
Matilda Feyiṣayọ Ibini's new play, Sleepova is an authentic, funny and moving piece of theatre. We follow 4 Black millennial girls as they gossip, joke, and quarrel during their sleepovers and navigate through their teenage years. Directed by Jade Lewis, Sleepova is a beautiful representation of Black sisterhood and a total joy to watch!
The story
The show begins in 2016, in East London, with four childhood friends celebrating Shan's (Aliyah Odoffin) 16th birthday with their first-ever sleepover. Shan is vibrant, and full of enthusiasm, despite her long-term health condition. Then we have Elle, the incredibly devout Christian (Shayde Sinclair) and Rey (Amber Grappy), the cool and confidently queer friend. The quartet is complete with the exuberant and proud Yoruba, Funmni (Bukky Bakray).
Spanning over two years, we witness the girl's rocky transition from adolescence into adulthood. From prom nights, A-Levels, sexuality, and grief, they grapple with the idea of being friends forever as life doesn't pan out quite how they had imagined…
My thoughts
Sleepova is heartwarming, honest and utterly hilarious. The show is a fun-filled bubble of nostalgia – Ibini perfectly encapsulates the experiences of teenagers.

I appreciated every pop cultural and online meme reference that was effortlessly woven into the script. The subtle set and lighting design were effective enough to establish the scenes and varying locations.
The cast was simply fantastic in their roles. The natural chemistry between them made the scenes even more genuine- it felt like we were watching a real-life group of friends at a sleepover.

Sinclair's Elle is well-mannered and seemingly brainwashed by her religious parents. As Elle battles with her identity, I enjoyed her and Rey's scene together. It was heartbreaking and the pair displayed such raw emotion. Bakray's Funmi is captivating, and charismatic, showcasing impeccable comedic timing. I loved the Yoruba phrases Funmi would inject into their speech. Similarly, Odffin performs with wonderful enthusiasm. Despite the character's chronic illness, this rarely dampens her spirit and she appears to be the glue keeping the girls together.
The second act is far more emotional and features a poignant finale. The characters go through different experiences but what remains the same is the abundant support. Even during their ups and downs, the girls' loyalty and sisterhood make this play so special.

Described as an 'ode to black women', Ibini has successfully crafted a relatable play, with honest representation that acknowledges many aspects people may face in life; long-term illness, family struggles, sexuality and grief.

With unique characters performed by a talented cast, Sleepova is a beautiful, modern coming-of-age story depicting teenage dreams and sisterhood. It's playing at Bush Theatre until 8 April 2023.
All performances of Sleepova are in a relaxed environment. Audiences are free to respond how they like, free to laugh loudly and dance to the music. It makes the experience all the more worthwhile.
Bush Theatre continually stage authentic & diverse stories – it's the representation needed on theatre stages. I am filled with joy whenever I visit the venue. Their accolades are so well deserved and I'm extremely excited for their future!