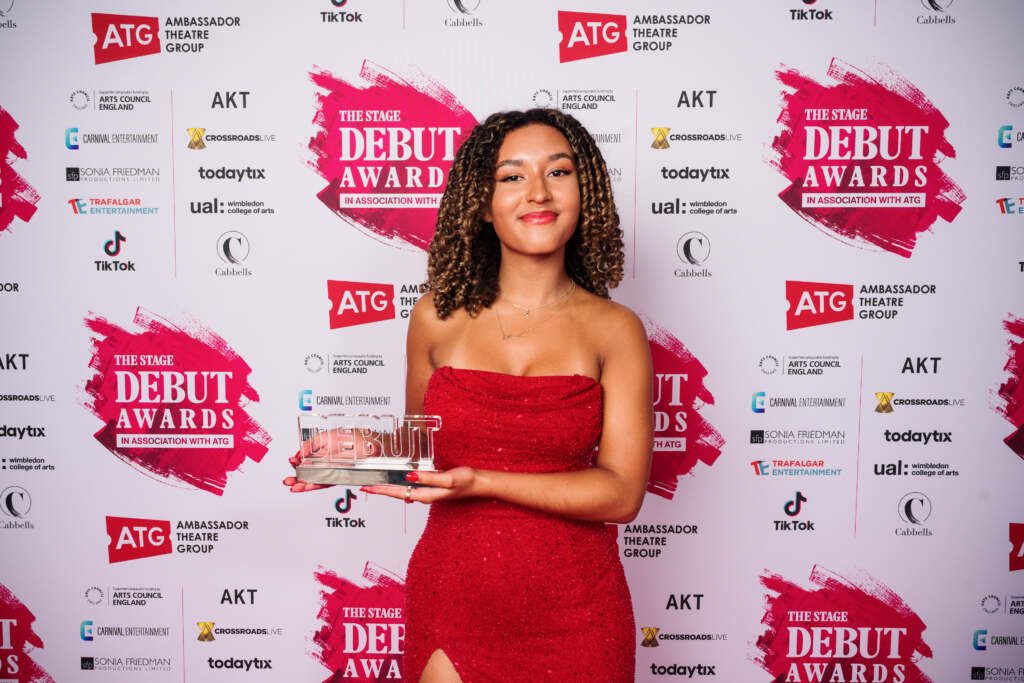 On Sunday 1st October 2023, I attended The Stage Debut Awards. The Debut Awards highlight breakthrough actors, writers, directors, designers, composers/lyricists across 8 categories.
I had the amazing opportunity to meet the award nominees, guest performers, and hosts. I loved speaking with them, learning about their journey & their excitement to be part of this joyous ceremony!
Here are my interviews from the evening:
Emily Benjamin – Guest performer, Alternate Sally Bowles in Cabaret
How does it feel to be at The Stage Debut Awards?
Emily: It's really fun! I keep looking around, recognising all the people I've been fans of for years of my life – because I'm stagey. I'm performing at the same event that Rachel Wooden is performing at! I used to listen to her when I was a teen – I think she's incredible!
How does it feel to be a part of Cabaret?
Emily: It's hugely important! I'm so thankful to get to tell a story, that's scarily relevant in today's world. The director, Rebecca Frecknall, said very early on, that to make dangerous work, we had to create a safe environment. Building this show is both dangerous and incredibly beautiful. I couldn't be more thankful to be part of it!
What are you looking forward to in 2024?
Emily: I'm starring in a new musical called Bronco Billy at Charing Cross Theatre, that opens in January! I'm looking forward to telling a new story and reaching a new group of people.
Last question – what's your favourite ever musical?
Emily: The Last 5 Years – Jason Robert Brown!
Bukky Bakray – Nominee for Best Performer in a Play for Sleepova at Bush Theatre
How does it feel to be nominated?
Bukky: It's nice, I feel humbled. It was mad to be in the theatre, as I'm not training, so to be nominated with so many incredible people – I just feel really humbled!
How was the whole experience working on 'Sleepova'? 
Bukky: It was everything I would have hoped it to be. I feel like that was because it was at the Bush [Theatre]. I'm really grateful to have a debut at that theatre. Everyone was really cool, beautiful environment!
What are you looking forward to this evening?
Bukky: I'm with Kosar Ali. We started all of this together and she also had a debut play this year. It's nice to share this experience with her.
Elan Davies – Nominee for Best Performer in a Play in Imrie at Sherman Theatre
How does it feel to be at The Stage Debut Awards?
Elan: It's been so cool. It's nice to be recognised. I'm at the beginning of my career. It's cool to be in a room with people I look up to.
Can you tell us more about 'Imrie'?
Elan: It's a fully Welsh language play in Cardiff, then it toured Wales. It's about two teenagers growing up during that transitional period where you go from teenagers to adults. Both characters feel othered in two different senses; my co-star, Rebecca Wilson, figuring out her queer identity, and my character figuring out her mixed-race roots. It was all performed in the Welsh language, which was really cool.
I wanted to go on to this project as I'd never read anything like this in the Welsh language. It platformed voices that aren't necessarily platformed at the moment in Welsh.
Elan Davies went on to win the Best Performer in a Play award!
Congratulations! How were you feeling, in the moment, when your name was announced?
Elan: I was crying with no tears! (laughs) It was a heave of exasperation, joy, gratitude, and a lot of emotions! I was surrounded by my family, which was the best thing about it.
I had an unconventional entrance into the industry. I left school at 17 and started working and getting into the room as much as I could. I'm still at the beginning, but it's a massive thing to be recognised at this stage!
Emily Ling Williams – Director of A Playlist for the Revolution at Bush Theatre
What did it mean to be part of 'A Playlist for the Revolution'?
Emily: It was incredible – one of the best experiences of my life. I worked with AJ Yi from the start. The creative team, and the actors, all coming together and making the show was really exciting! And telling a story with an all-Asian cast, about something political and also something beautiful, fun, a human story. It embraced music, love and happiness – it was such a joyful experience from beginning to end.
Myself, AJ and the designer were all working collaboratively – AJ and I were raised on rom-coms so we wanted to make it as romantic as possible! Bush Theatre was incredible. The team were amazing. I don't think you could have a better debut show experience. They were kind and supportive from the get-go – it was a dream!
Emily Ling Williams went on to win the Best Director award!
Congratulations! How did it feel when your name was announced?
Emily: Unbelievable! I was so shocked! When they said "Hong Kong", I was like 'what?!'.
How are you going to celebrate?
Emily: Champagne, enjoy my dessert, tell my mum!
I'm so happy for you! Do you have any advice for aspiring directors?
Emily: I came up through the Young Vic. I applied for an Introduction to Directing course at Young Vic. It was a free 2-week course. They supported me and helped with my first and second jobs in theatre. They've been amazing! Find those courses and theatres that are helping Directors – just apply and see!
And shout to the Bush Theatre!
Emily: Shout out to Bush Theatre – they take a chance on people. Lynette and Dan, the whole team are incredible. They give you the opportunity to make a great show!

The Winners in Full:
Best Performer in a Play (Sponsored by Cabbells):
● Elan Davies for Imrie at Sherman Theatre, Cardiff
● Isobel Thom for I, Joan at Shakespeare's Globe, London
Best Performer in a Musical (Sponsored by Carnival Cruise Line):
● Jessica Lee for Miss Saigon at Crucible Theatre, Sheffield
Best Director: (Sponsored by Arts Council England)
● Emily Ling Williams for A Playlist for the Revolution at Bush Theatre, London
Best Designer (Sponsored by Wimbledon College of Arts, UAL):
● Andrea Scott (video) for My Neighbour Totoro at Barbican Theatre, London
Best Writer (Sponsored by Sonia Friedman Productions):
● Anoushka Lucas for Elephant at Bush Theatre, London
Best Composer, Lyricist or Book Writer (Sponsored by Crossroads Live):
● Michael R Jackson for A Strange Loop at Barbican Theatre, London
Best West End Debut Performer (Sponsored by TodayTix)
● Rose Ayling-Ellis for As You Like It at @sohoplace
Best Creative West End Debut: (Sponsored by Trafalgar Entertainment)
● Tingying Dong (sound designer) for The Crucible at National Theatre and Gielgud Theatre

● Rob Madge (writer) for My Son's a Queer, (But What Can You Do?) at Garrick Theatre and Ambassadors Theatre