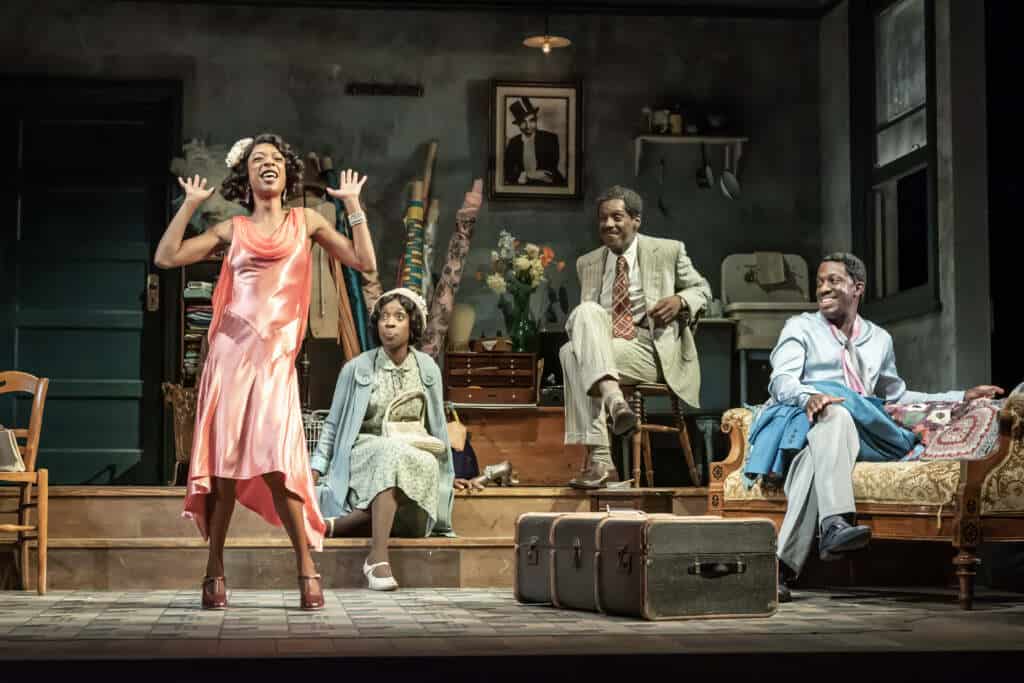 🎭 Blues for an Alabama Sky
📍 National Theatre
🎟 PR invite
⭐⭐⭐⭐
I took my first-ever visit to National Theatre to watch Blues for an Alabama Sky.
The 1995 play, written by Pearl Cleage, headed to Southbank, for a startling revival directed by Lynette Linton.
Set in an all-Black neighbourhood in 1930s Harlem, New York, the story follows a group of friends battling to keep their artistic dreams alive amidst the beginning of the Great Depression.
We meet Angel (Samira Wiley), a struggling Blues singer who recently lost her job and boyfriend. Angel shares an apartment with her gay best friend, Guy (Giles Terera), a fashion designer who dreams of being in Paris, designing outfits for the famous Josephine Baker. Across the hall is the shy and awkward Delia (Ronke Adékoluẹjo), who aspires to open a family planning clinic in Harlem. The quartet are complete with Sam (Sule Rimi), a charming, outgoing doctor, who delivers babies during the day, and then parties all night. 
The play takes place entirely in the apartment building, with the Harlem Renaissance serving as the backdrop. It is a time when there was economic uncertainty, hardship and dwindling opportunity. Despite this, the characters strive for freedom.
The friends frequently come together, hanging out in Angel and Guy's apartment, reciting Langston Hughes' poetry, and drinking champagne. This is disrupted when Angel falls for Leland Cunningham (Osy Ikhile), a God-fearing man from Alabama. Their romance is adorable, to begin with, but when Leland's conservative views are revealed, it causes strain on Angel's friendships and her own feelings.
Lynette Linton has created a beautiful production. I admired the transitions between scenes as the stage revolved. Frankie Bradshaw's set and costume design were stunning, transporting us back into 1930s New York.
The talented cast was incredible, and each character shone in their own way. A complex group of friends, I loved all their interactions. Samira Wiley's performance as Angel was a brilliant mix of sass, humour, and a dash of self-centeredness. Wiley and Terera displayed the perfect friendship duo. The matching energy, flamboyancy, wit, and vocals were a joy to watch and a highlight of the performance!
Adékoluẹjo's performance was another standout, as she portrayed Delia in a timid manner, with the occasional awkward outbursts. It certainly provided many of the humorous moments of the show. Delia and Sam's scenes were endearing, and I very much enjoyed the dialogue in their scenes and their blossoming relationship. Their moments felt poignant; Adékoluẹjo and Rimi's onstage chemistry was undeniable.
Act One was far more slow-paced; there was a lot of dialogue with little action to match. The scenes picked up once the harmonic ensemble joined the stage, led by Wiley's strong vocals. From then, the rest of the show was captivating, with some scenes causing audible gasps from the audience.
Cleage's writing includes heavy but necessary topics. It is a timely play, which Sule Rimi acknowledged in our interview during the rehearsals. Themes such as reproductive freedom, homosexuality, and racism, are so relevant and vital in our current climate – I appreciated how sensitively the production shared this.
Pearl Cleage has written an impactful piece of theatre with honest characters, resonant in our current society. Even with a bittersweet ending, Blues for an Alabama Sky is a story that reflects reality, and I am thankful for this revival. 
You can catch Blues for an Alabama Sky until 5th November 2022!