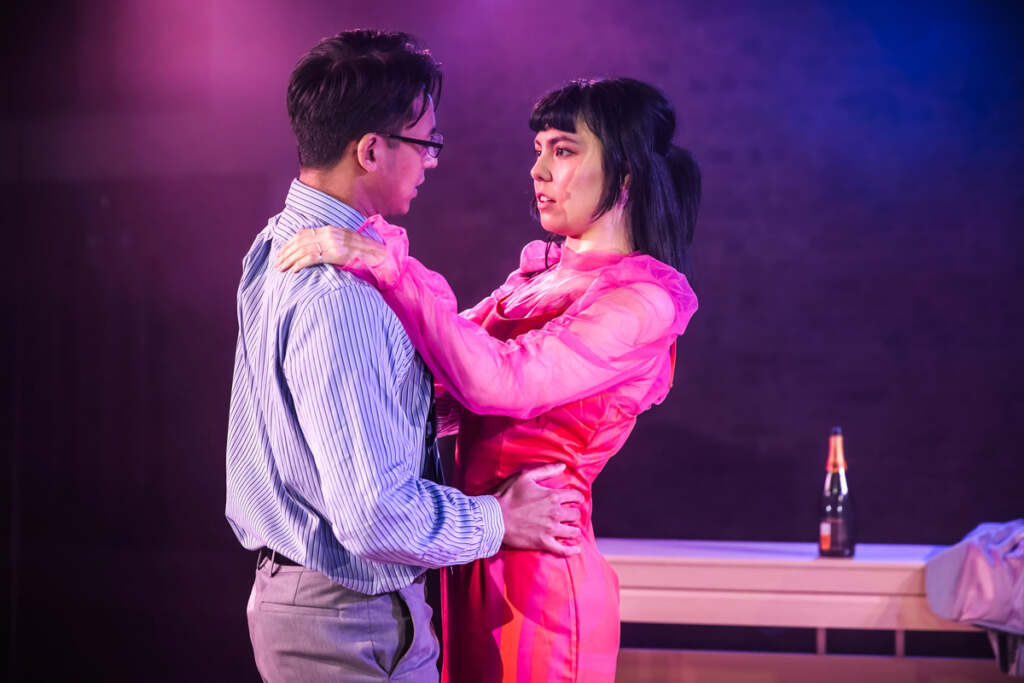 🎭 A Playlist for a Revolution
📍 Bush Theatre
🎟️ PR invite
⭐⭐⭐⭐
AJ Yi's new romantic comedy follows the journey of Jonathan and Chloe, who meet at a family wedding and unexpectedly find love amidst one of the largest demonstrations in Hong Kong's history.
The story
Set in 2019, we follow the journey of Jonathan and Chloe, who meet at a family wedding in Hong Kong. Chloe (Mei Mei Macleod) is enjoying freedom before returning to England for university, while Jonathan (Liam Lau-Fernandez) The pair strike up a connection; bonding over musical choices, they spend the evening dancing and drinking before Chloe has to leave for the UK. Their long-distance friendship unfolds through endless messaging and the creation of a shared Spotify playlist. 
As this beautiful relationship forms, the world around them is changing. One of the largest demonstrations in Hong Kong's history is taking place, as citizens fight for their rights and for a better future. Chloe is inspired by the movement and wants to 'change the world with a playlist', adding protest songs – Beyonce, N.W.A and John Lennon – to their playlist. Jonathan is initially less inclined to join the protests, until he meets the school's janitor, Mr Chu (Zak Shukor), who has been protesting all his life, and convinces Jonathan to take part.
My thoughts
The chemistry between Jonathan and Chloe is undeniable. Chloe's quirkiness and spontaneity contrast with Jonathan's more pragmatic approach to life, creating a dynamic that kept us engaged. Jamie Ye and Nicola T. Chang's sound design form a great part of the show. The use of music and the shared Spotify playlist was clever and added a layer of intimacy to their long-distance relationship.
Emily Ling William's creative direction elevates this, and despite the physical distance, Jonathan and Chloe feel closer than ever. Ling Williams opts to have the characters read their texts (and the emojis!) aloud. They share Asian snack recommendations, and musical tastes, dancing alongside one another to the pop, rap, and classical music songs that fill their revolution playlist. Both Ling Williams and Yi have beautifully captured the essence of a rom-com.
The play explores themes of identity, resilience and the meaning of protests. Chloe longs to feel closer to her Hong Kong heritage and idolizes the movement. Jonathan brings her down to earth, reminding her what it is truly like to be living in the middle of the protests.
An integral character in the play is Mr Chu, portrayed brilliantly by Zak Shukor. Chu is a stern yet caring mentor and fatherly figure to Jonathan. The pair displayed amazing onstage chemistry. Their scenes were filled with a good balance of humour and poignancy. It was endearing to see the two form a friendship and I especially enjoyed Chu's witty one-liners. The entire cast gave strong performances, particularly Lau-Fernandez who was utterly captivating in the role of Jonathan. They showcased a range of genuine emotions; the sense of vulnerability and fear left me feeling quite moved.
Yi's writing emphasises the very reason why the people of Hong Kong are fighting in the first place. As Chu exclaims Hong Kongers "are not quiet", he passionately embodies the anger and lifelong commitment to fighting for rights and change.
Gillian Tan's video design and sound bites from the Hong Kong protests ground the play in the reality of the events and act as a powerful reminder. AJ Yi expertly weaves together romance, comedy, and political themes.
With fantastic performances and creative direction, A Playlist for the Revolution is a wonderfully written, powerful piece of theatre.
I have so much respect for Bush Theatre and felt immense joy to see a predominantly Asian cast and creative team. Representation in theatre is something I am passionate about. Being able to experience real, diverse stories on stage makes me feel proud and excited for the future of theatre.
A Playlist for the Revolution is playing at Bush Theatre until 5 August 2023!