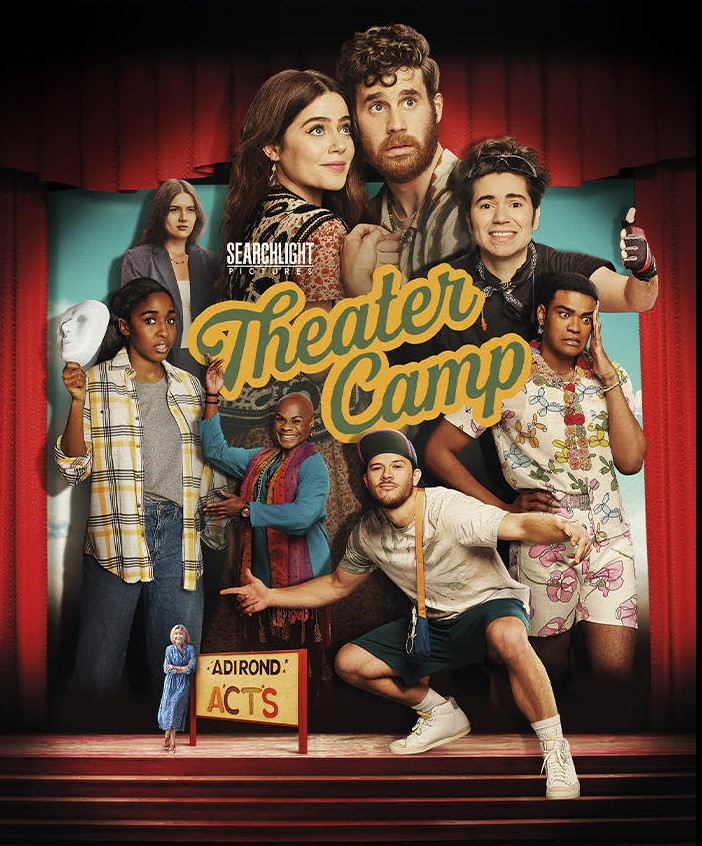 🎬 Theater Camp
📍Picturehouse Central
🎟️ PR invite
⭐⭐⭐⭐

If there's a camp I want to go to, it's AdirondACTS!
Earlier this week, I had the pleasure of attending a special screening of the film, Theater Camp.
Written and directed by Molly Gordon, Nick Lieberman, Ben Platt and Noah Galvin, Theater Camp, is a satirical comedy film following the drama at a theatre camp in upstate New York. It's laugh-out-loud funny, nostalgic, and amazingly wholesome.
As summer comes around, children begin preparing for their annual visit to AdirondACTS, the theatre camp for aspiring performers. When Joan, the beloved founder of the camp, falls into a coma, it's down to her 'entrepreneurial' son, Troy (Jimmy Tatro), to help keep the camp afloat. A dilemma arises when Troy discovers the camp is facing bankruptcy. Clueless about the theatrical world, Troy works together with the eccentric teachers and campers to find a way to save the camp.
The film follows a 'mockumentary' style, capturing all the events across the camp as they all prepare for the original musical. I loved this format as it made the scenes more relatable and suited the style of humour. It's incredibly satirical, reminding me of hit TV shows, The Office and Abbott Elementary. I wouldn't be surprised if some of the scenes were improvisation too! The cast shone throughout with their sharp wit and comedic timing. The younger members of the cast were also impressive, and I loved seeing their over-dramatic characterisation of 'theatre kids'.
My favourite scene was the montage of the lessons taking place across the camp. Costume, drama, stage management – and whatever class the unqualified teacher would attempt. Notable mention to Ayo Edebiri, for the deadpan humour in the role of a teacher who lied on their CV.
Ben Platt and Molly Gordon star as Amos and Rebecca-Diane, Head of Drama and Music teachers at the camp. Described as 'artistically linked' best friends, I enjoyed how the film explored their quirky friendship and the changing dynamic. Platt and Gordon were fantastic and displayed great (and funny) chemistry.
The script is packed with jokes, and while the storyline felt a bit predictable, the message conveyed was wholesome. All throughout, we witness how accepting the theatre camp is. The safe and welcoming hub it provides for the campers and the staff. The character arc of Glenn (Noah Galvin) was so heartwarming and perfectly embodied that supportive, affirming theatre spirit! Even with all the tender moments throughout the finale, as the children sing 'Camp is Home', I still found myself giggling at the credit scenes
This is a film that certainly resonates with me. Theater Camp is a genuine, hilarious, and light-hearted film that has beautifully shown what theatre means to people.
Theater Camp opens in UK cinemas on August 25th! You can find out more information about the film at https://www.searchlightpictures.com/theater-camp/