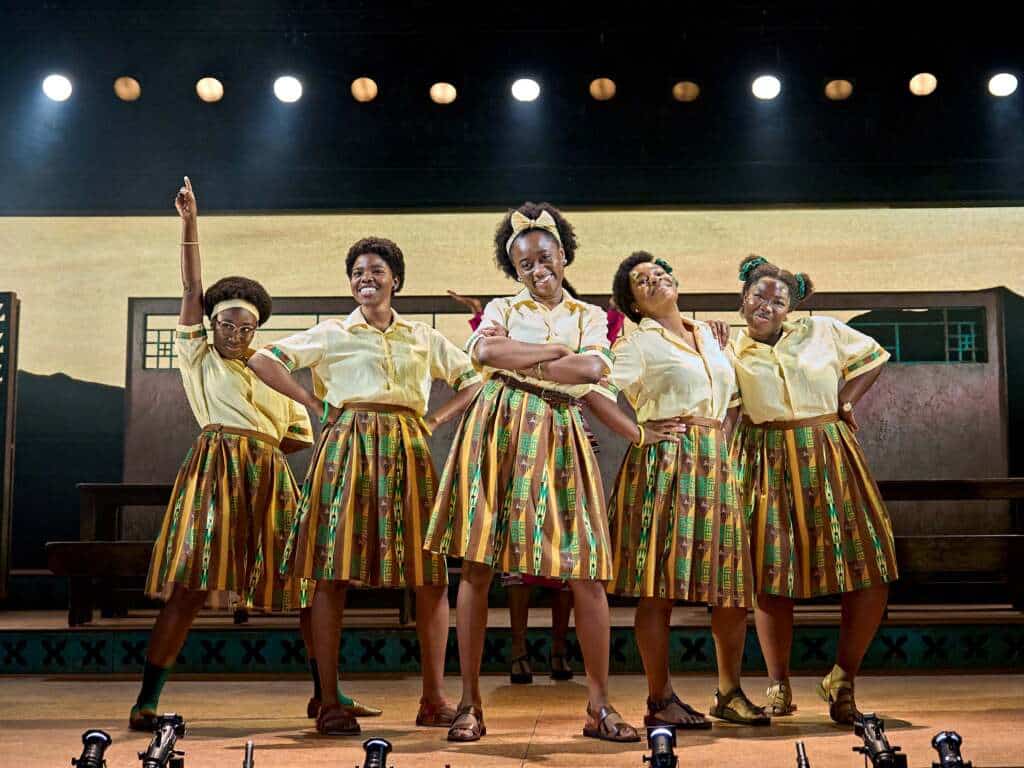 🎭 School Girls; Or, The African Mean Girls Play
📍Lyric Hammersmith
🎟️PR invite
⭐⭐⭐⭐⭐
Jocelyn Bioh's award-winning comedy play arrives in London, for a hilarious, heartfelt story that explores the experiences of young Black girls.
The story
We're transported back to 1980s Ghana, at the prestigious Aburi Girls Boarding School. 'Queen Bee' Paulina Sarpong (Tara Tijani) and her group of friends eagerly await the arrival of the Miss Ghana pageant recruiter, who will be looking for candidates to represent Ghana in the Miss Global contest. Paulina is cheeky, and pretentious and seeks praise by putting her friends down with snide remarks about their intelligence and appearance.
Despite these unlikable qualities, Paulina holds the leading position to claim the title of Miss Ghana. That is until Ericka (Anna Shaffer) a new mixed-race student, transfers from America to complete her studies at the school. Ericka's lighter complexion fascinates the school girls but enrages Paulina who fears Ericka will 'steal' the title because she fits the beauty standard that favours fairer skin. The arrival of Ericka disrupts the friendship dynamics, sparks rivalry (and singing battles) and uncovers heartbreaking revelations.
My thoughts
Bioh's writing is hilarious and heartfelt. The constant, quick-witted jokes keep the energy high for the entirety. The play focuses on the characters' desire to be like the women they see in pageants, conforming to a particular beauty standard.
Paul Wills' set design is subtle yet beautiful in depicting the Aburi mountains against an orange hue background. Similarly, Kinnetia Isidore's costume designs strongly represent Ghana with the school girls wearing cute kente-patterned skirts. Headmistress Francis (Allison A Addo) dons a striking pink kente fit, which suited her stern but sweet personality.
The play has clear parallels to American high school dramas (including the iconic 2004 film, Mean Girls!). The girls enthusiastically gather together to gossip about hair, fashion, and boys. Monique Touko's direction infuses the production with playful and youthful energy, perfectly capturing the essence of teenage schoolgirls.
The cast is fantastic and each actor brings their own individual personalities to the stage. They performed so naturally and had authentic chemistry. It felt like we were watching a real group of friends banter with one another! Gifty and Mercy (Francesca Amewudah-Rivers and Bola Akeju), the humorous duo, had me laughing out loud, with their naivety, bubbly personalities, and impeccable comedic timing. Heather Agyepong's Ama is intelligent, and sensible, while Jadesola Odunjo brilliantly portrays Nana as the timid, kind-hearted schoolgirl. Nana gained sympathy from us as Paulina verbally attacks her, simply for being her.
The complex character of Paulina surprises us when she finally drops the mean girl exterior to reveal the heartbreaking reasons behind her actions. Tijani's portrayal is brilliant; I adored their overall stage presence and mannerisms (also, *that* sequin dress!). Tijani showed raw emotions, that evoked empathy from us, despite the flaws of the character.
As Headmistress Francis attempts to uplift Paulina, recruiter and former Miss Ghana winner, Eloise (Deborah Alli), crushes Paulina's dreams, asserting that the Ghana representative for the pageant must possess a "universal and commercial look". It's heartbreaking and some of the language used to describe the darker-skinned pupils is difficult to hear. Sadly, this is the reality of people's experience in a world that favours a certain image.
Bioh successfully weaves in other related topics, such as self-image, education, and materialism. This is cleverly done, as Bioh strikes the right balance of seriousness and comedy. I do believe an extra 10-20 minutes could have allowed further exploration into the themes, and perhaps include more affirmation that Black, no matter the shade, is beautiful!
Through its hilarious characters, engaging storyline, and universal themes, 'School Girls; or African Mean Girls Play' is a heartwarming comedy, exploring the vulnerable moments of teenagers worldwide. As a British-Ghanaian, I was ecstatic to discover this play and to witness a cast & creative team that represents me. It's unique, entertaining and a joy to watch – I highly recommend it!!
You can catch 'School Girls' playing at Lyric Hammersmith until Saturday 15 July 2023!