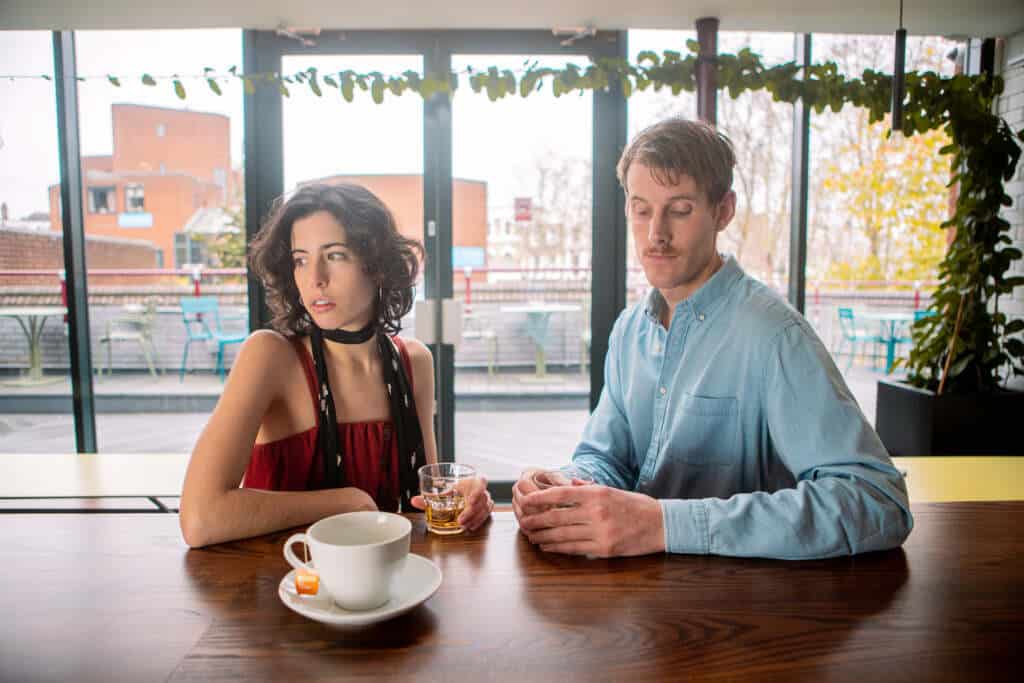 🎭 Counter
📍 VAULT Festival
🎫 PR invite
⭐⭐⭐⭐
So, do lies hold a relationship together? 👀
Written and directed by Maggie N. Razavi, Counter follows the breakdown of a long-term relationship. With a minimal set, taking place at a bar counter, we are immersed in a couple's relationship, whose inner thoughts question whether they should stay together or break up.
The story
The couple, played by Max Norman and Rivkah Bunker, have been together for a decade but haven't communicated in three weeks. We soon learn the man had proposed to his partner, which caused her to run off, take a 'break' – and cease all communication with him. They exchange passive-aggressive small talk, but each character breaks the fourth wall to reveal true feelings about the situation. And each other.
My thoughts
The duo put on strong performances; both convincingly deliver satirical monologues that had me switching sides on who I personally thought was in the wrong. Razavi's script is engaging and authentic – I appreciated them highlighting real-life issues people in relationships face. He strives for marriage, kids, and a house before 30, while she wants to be free to travel the world. Their differences and lack of communication lead to controversial secrets.
'Her' (Bunker) questions whether she really loves 'Him' (Norman). He may provide security, family, and stability, but she feels unseen. Sure, she's committed some (okay, several!) wrongdoings, but we soon learn 'Him' isn't innocent either.
Our characters speak directly to audience members, asking for their opinions. "Am I in the wrong? Should I stay? What dating apps do people use?" I must commend Bunker for their improvisation skills and also their added humour in this intense play.
The concept in Counter is great, and I believe it could be elevated in terms of audience participation. Having an alternative ending depending on the response from the audience could be an interesting plot device. I also would prefer if there was more dialogue in their scenes together, rather than awkward silence. There could have been tender moments, with movement or speech, demonstrating that they are deeply in love, but their monologues suggesting otherwise. Having that contrast would certainly add to the humour.
I won't spoil the ending but it certainly divided opinions and sparked a post-show debate between friends and me!
Maggie N. Razavi has created a unique piece of theatre by including interactive elements, crafting compelling characters and initiating discussion both during and after the show.
Although the show has finished its tour at the VAULT festival, I hope to see Counter back on stage soon!