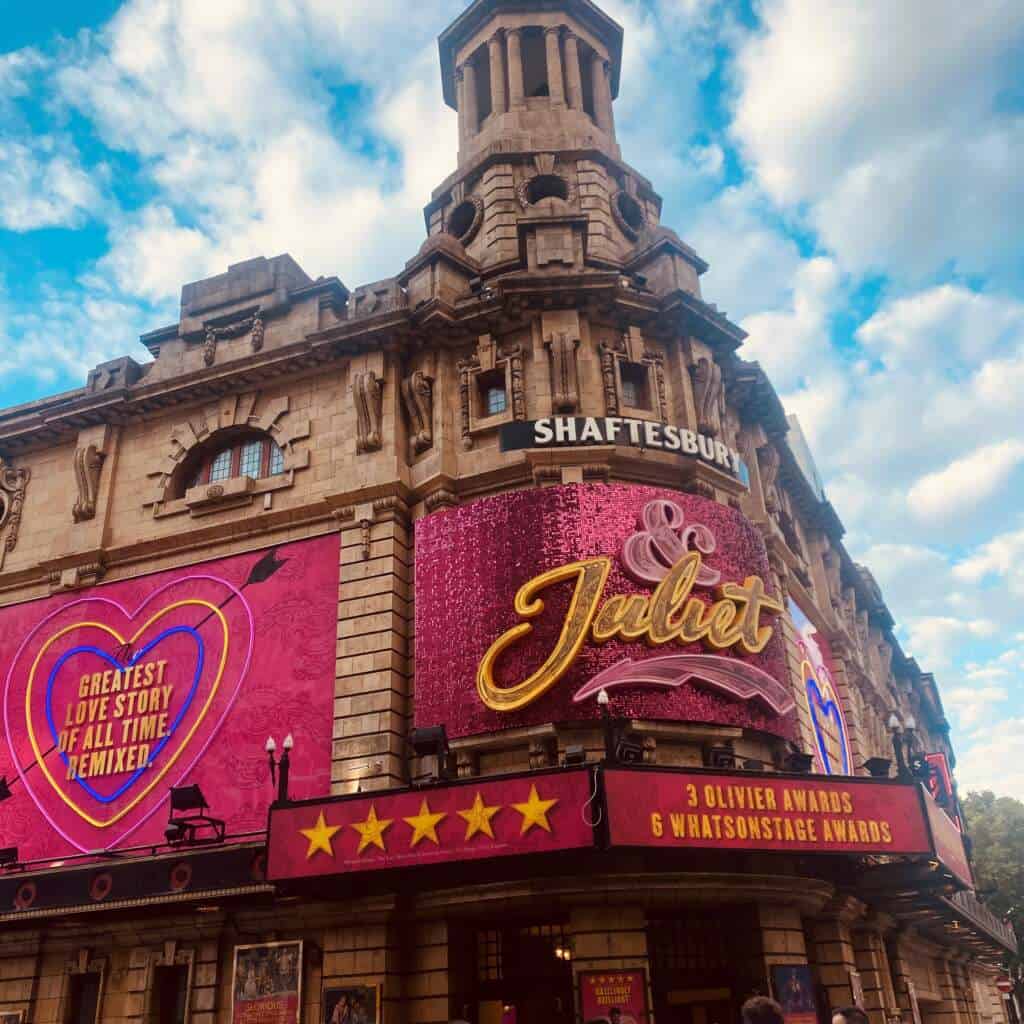 🎭 &Juliet
📍 Shaftesbury Theatre
💷 £25
⭐⭐⭐⭐⭐

Who knew I would love jukebox musicals enough to see them twice!? & Juliet is one of the most fun, entertaining, and inclusive West End shows I have ever been to. Thanks to Today Tix, I have been fortunate to see this pop musical twice and in different seating areas (much prefer the stalls!).
Based on Shakespeare's Romeo and Juliet, &Juliet tells this classic tale from a "what if" perspective, where Juliet does not die. Shakespeare (Oliver Tompsett) is persuaded by his wife, Anna Hathaway (Cassidy Janson) to rewrite the ending of Romeo and Juliet's tragic love story. And this begins a wonderful, wild, and wacky musical journey. We follow Juliet (Miriam-Teak Lee) on her journey of self-discovery, as she travels with friends, May (Alex Thomas-Smith), Nurse Angelique (Melanie La Barrie) and Anne, from Verona to Paris.
This award-winning musical includes music from Swedish songwriter, Max Martin. His catalogue is very impressive with hits from Britney Spears, Backstreet Boys, Katy Perry and more! The songs are hilariously and cleverly incorporated into the storyline, with my standout performances being from 'Da Bois' and that iconic Ariana Grande/The Weeknd mash-up. The script was witty, with some tongue-in-cheek one-liners. There were tender moments too. The inclusion of the non-binary character, May, was touching to see and provided the much-needed inclusion we need in theatres today! There were also many empowering speeches between the characters and a sense of girl power. Teak-Lee as Juliet was outstanding – the energy, the charm, the humour!
I adored the enthusiasm from the ensemble all throughout this show, especially at the beginning as they engaged with the audience. The cast wore Tudor-like costumes that had been modernised and paired with sneakers and a lot of bling! The choreography by Jennifer Weber is so catchy – I still do the same dance move whenever I hear Katy Perry's Roar.
This is a fun musical that is suited for any audience. Yes, the storyline at times is a little ridiculous, but it was such a joy to watch. I came out of the theatre grinning, wanting to experience it all over again. (And I did, 5 months later with a different cast – who were equally as talented!)
& Juliet is a show I highly recommend for everyone!