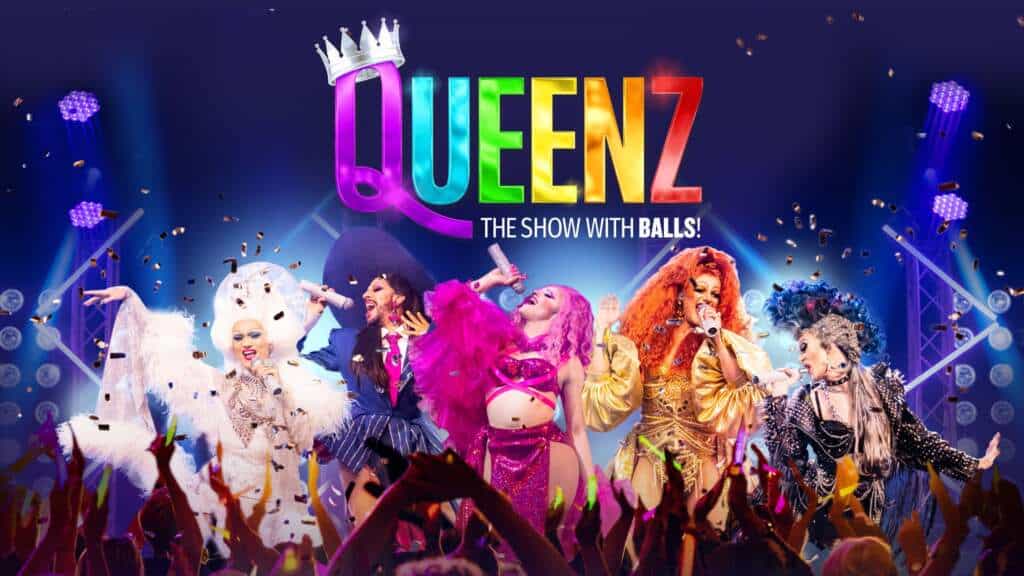 🎭 Queenz: The Show with Balls!
📍 Arts Theatre
🎫 PR invite
⭐⭐⭐⭐⭐
Five fabulous Drag Queens take to the stage to perform an impressive medley of classic songs from much-loved singing stars such as Gaga, Beyonce, Whitney and more! There is not a lip sync in sight as our Queenz showcase the most spectacular live vocals. The audience is treated to sassy dance routines, sparkly sequinned outfits, and a heap of cheeky humour!
Created and produced by David Griego, Queenz: The Show with Balls is hands down one of the best Drag shows I have watched. It began as an Edinburgh Fringe show and has since gone on tour across the UK.
The atmosphere was already buzzing as we were handed glowsticks upon entry. The show began with a bang and straight into a megamix of our favourite Pop songs! The entire show felt like a full-blown party; with glowsticks and phone torches parading the air and of course, a group sing-along. The lighting design wonderfully added to this party atmosphere with cascading lights around the theatre and accurately timed spotlights on the performers. I loved the variety of lighting choices, with colour tints that complemented the Queenz' gorgeous, dazzling outfits.
With its final London performance on a West End stage, it felt very fitting for our Queenz to perform a hilarious (and clever!) Musical Theatre medley. I was so impressed with the number of theatre classics the performers sang, with original lyrics – in just under 7 minutes! The energy was consistent, and each queen showcased their talents.
I was in awe of ZeZe Van Cartier's (Lew Ray) and Billie Eyelash's (Craig Colley) choreography AND hair-ography skills! Candy Caned's (Josh Hanson) stunning outfits and Bella Du Balle's (Ben Sell) powerhouse vocals! Completing the fabulous five was Dior Monte (Jaymi Hensley) whose comedic timing was perfect, as they had a string of funny audience participation moments!
Sass, sequins, sensational vocals – the Queenz energy was infectious and had us hooked for the entire evening. As we sang, danced, and laughed along, the show proved that time flies when you're having fun!
The Queenz rendition of Cyndi Lauper's True Colours was beautiful and encouraging. We were shared with an empowering message on acceptance, loving who you want and the importance of supporting the LGBTQIA+ community. 
Whether you're a non-binary finery or a fierce ally, Queenz: The Show with Balls is the ultimate Drag show you won't want to miss when they return on tour!